Meet Top Sinus Surgeon
Dr. Aminpour
With his focus on patient wellness and results, ENT specialist and sinus surgeon Dr. Shervin Aminpour provides his patients with among the best care available for conditions of the ear, nose and throat. While he already excels in his field, he understands that he must never stop learning.
Shervin Aminpour, MD, Board Certified Otolaryngologist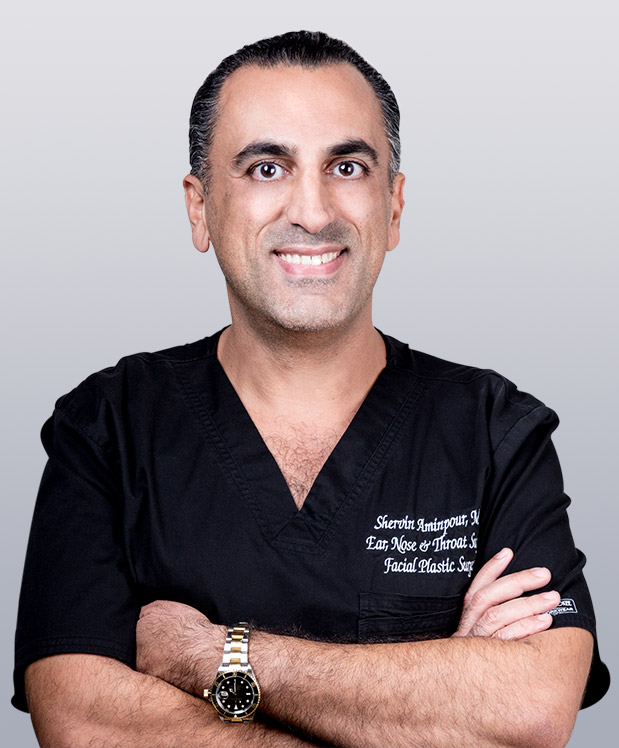 In addition to treating his many patients, he studies the ever-changing field of ENT technology. In this way, he can provide his patients with not only the highest quality of care, but also the newest and most effective techniques in his constant endeavor to be the best sinus surgeon Los Angeles has to offer. The chronic nasal congestion treatment he provides gives patients relief from one of the most common human complaints.
ENT physicians are trained both in medicine and surgery, which makes this specialty somewhat unique in medicine. Referrals are not necessary when surgery is needed and in this way patients can enjoy continuity of care when selecting an ENT doctor in Los Angeles. Disorders of the ear nose and throat can be very complex as they often relate to structures of the head and neck. A board certified ENT physician has the specialized training necessary to effectively treat these conditions both medically and surgically, whether in a child or an adult.
Areas ENT's Specialize In
There are seven specific areas that an ENT physician can specialize in. These are:
Laryngology
Head and Neck Tumors
Otology/Neurotology
Rhinology
Dr. Aminpour has extensively trained in all of these areas and can treat patients who are suffering from the effects of any of these disorders. Helping people regain their ability to breathe freely or to speak or eat without stress is of particular interest to Dr. Aminpour and to this end he obtained an additional year of training in Facial Plastic and Reconstructive Surgery.
He is among the top sinus surgeons in Los Angeles, providing reconstructive nasal surgery for patients who have been injured in car or work related accidents or while playing sports, or patients who have birth defects relating to the structure of the nose. Breathing freely affects quality of sleep, ability to participate in strenuous activities and the enjoyment of food. He recognizes that unobstructed breathing through the structures of the nose is very important to overall health.
Another area of interest is in the treatment of cleft lip and cleft palate. Children born with this defect often have difficulty with feeding, breathing and speaking. Additionally, they often have related conditions, such as chronic earache.
Why Choose Dr. Aminpour
Dr. Aminpour is dedicated to providing his patients with exceptional care and to restoring functionality to the nose, mouth and neck. While cleft palate and cleft lip are primarily repaired by surgery, there may be medical conditions connected with this condition that must be treated before surgery. For example, otitis media (earache) or blockage of the airway are conditions that a board certified ENT is accustomed to handling prior to the surgical repair of clefts.
His many delighted patients agree that his skill as a surgeon have allowed them to do what many take for granted, thereby vastly improving their quality of life. He comes by this praise through hard work and many years engaged in specialized training in ENT practice, in Los Angeles, Chatsworth, Calabasas, Westlake Village and elsewhere.
Education
Dr. Aminpour graduated from the University of Southern California in 1999. He continued his education at the University of California, Davis Medical School, graduating in 2005 at the top of his class with a medical degree. He then completed a full Ear, Nose and Throat Surgery Residency at the University of California, Davis. Still desirous of more training, he continued with a fellowship year in Facial Plastic & Reconstructive Surgery. Through his outstanding results and accomplishments, he became board certified in otolaryngology and earned membership into the Academy of Facial Plastic and Reconstructive Surgery.
online at
Because of his proficiency in the fields of ENT and Facial Plastic & Reconstructive Surgery, Dr. Aminpour is a member of several prestigious medical societies, including the American Academy of Otolaryngology/Head and Neck Surgery, and the American Academy of Cleft Lip and Palate Surgeons. He is regularly pursued to lecture at local and national meetings, and has presented his groundbreaking techniques and philosophy on several plastic surgery topics. Additionally, he has written many articles in peer-reviewed publications to share his knowledge as a top sinus surgeon with his medical community.
Dr. Aminpour feels that it is his duty to help children from underserved countries in Central and South America who would otherwise go through life dealing with facial deformities. He regularly donates his time to these populations, recently traveling to Ecuador where he was part of a team that performed 70 successful cleft lip and cleft palate surgeries on local children.
Dr. Aminpour lives in Los Angeles, California, where he practices specialist ENT procedures on a daily basis. He is an avid Los Angeles Lakers and USC Trojan football fan.
For more information on Dr. Aminpour's Los Angeles facial plastic surgery practice, you can visit his website: www.hillsaesthetics.com.