Testimonials
Read what our patients have to say about our us.
Reviews
Testimonials
*Individual results may vary
Video Testimonials
Thank You's
Written Testimonials
Dr Aminpour saved my life. I developed severe allergies and wasn't able to function anymore. For over 2 years I was down with sinus infections and not able to leave my house or bed for 3 months. Nobody was able to help me 4 ENT's, 5 doctors and 2 allergy specialists was able to give me any relieve.
Dr. Aminpour sinus balloon surgery fixed me in 30 minutes and I'm enjoying life ever since.
I'm a week post-op from Dr. Aminpour. I had chronic sinusitis in all my sinuses. It took me a long time to decide on having the surgery and they were very patient with me. Iris and his staff are sweet and understanding. Dr. Aminpour is confident and I felt like I was in good hands. Today, after getting my stents out, I feel great! I know I have to keep up with treatment to keep my sinuses healthy. I'm so glad I had Dr. Aminpour. I had no bruising and very little swelling. I can breathe so much better, and I can sleep on my left side, which I wasn't able to do for the last 10 years!!
Dr. Aminpour is a competent and confident doctor that took his time with me as a patient, answered my questions, and was able to help me by giving a proper diagnosis and treatment plan. The front office is very warm and friendly, and I have had great interactions with Michelle and Iris. They have always been helpful both in person and on the phone, and are great about returning calls to answer medical or billing questions that I had. The office itself is clean and comfortable, and is located in a space with plenty of parking.
I recommend Dr. Aminpour's practice for anyone looking for an ENT.
Had a wonderful experience today at this office. I found Dr. Aminpour through Yelp. The office is super clean, trendy, and modern. The staff was friendly and Dr. Aminpour has a greatsense of humor and wonderful bedside manner. If you're looking for a great ENT, this is definitely the man to see!- MR
Wow is this really how my life was supposed to be. Why the hell didn't I do this 30 years ago. Yes the last week after my operation has been uncomfortable like having a cold but WOW once the doctor took the stents out of my nose the whole world opened up. Like a new lease on life. And the sleep apnea has gone away. No machine to sleep with. Yahoo!!! - JR
I am very grateful to his staff. My poor son had to see 4 Drs in less than 2 days and Dr. Aminpour stepped up to the plate. Thank you to his staff Sally, the front desk stafd as well as Dr. Aminpour for helping my son and just doing the right job with precision. Im very Thankful for his staff and looking forward to see how his wound heals. - MM
I went to his office and to begin with, his staff was so very nice and helpful. Made the process much easier. When I met Dr. Aminpour, he explained everything he was going to do and why. After trying different treatments, the last option was a septoplasty. I was ready for anything. He was so caring, answered all my questions, and put me totally at ease. I am still recovering but I can already tell the difference...I can breathe thru my nose! I highly recommend Dr. Aminpour and you can't beat his staff...they are the BEST! Thank you Dr. Aminpour and staff............ - MM
I had septoplasty surgery a week ago and I can already tell that it was a success! I can finally breathe through my nose fully for the first time in my life. I have suffered from a deviated septum and chronic allergies for a long time and I finally decided to go seek help, luckily I picked the best doctor! Dr. Aminpour is very knowledgeable and he really took the time to explain exactly what was wrong and how he would go about correcting things during the surgery. He is a very sweet and caring guy and of course highly professional! I already had my dad go see him because he too has suffered with a deviated septum for many years and I have no doubt that Dr. Aminpour will help him like he helped me. Overall wonderful experience! - MB
Dr Aminpour saved my life. I developed severe allergies and wasn't able to function anymore. For over 2 years I was down with sinus infections and not able to leave my house or bed for 3 months. Nobody was able to help me 4 ENT's 5 doctors and 2 allergy specialists was able to give me any relieve. Dr Aminpour sinus balloon surgery fixed me in 30 minutes and I'm enjoying life ever since. - FN
I had septoplasty surgery a week ago and already am able to breath. Dr. Aminpour explained everything thoroughly prior to me have surgery. His staff is extremely polite and friendly, also a big plus for me!!! I felt very comfortable with him operating on me and highly recommend him for all your nose needs! Thank you Dr. Aminpour, you're the best! - AH
Dr. Aminpour is the most professional Ear,Nose and Throat specialist I have the pleasure of meeting and being able to Breathe after 30 years. A great office staff. Friendly atmosphere. Would recommend him to anyone who needs reconstructive surgery.- DS
After surgery, i was shocked on how well dr. Aminpour performed the operation. I had barley any bruising and I felt great right after surgery. After visiting the Dr. 5 days after operation and removing the cast, I was very impressed on how well my nose looked. - TS
Highly recommend Dr. Aminpour and his great staff. Thank you for the Breath of fresh air.- BE
Dr. Aminpour is the greatest! He is so professional and kind and his office staff is lovely. I recommend everyone see this doctor for any of your ENT needs! - MB
In 15 minutes Dr. Aminpour had a diagnosis for me. Dr. Aminpour listened to me, did in office diagnostics, and had a solution. - MB
Dr Aminpour is a super qualified and very competent dr. He has a great bed side manner and puts you completely at ease. Explains things well. Staff in the office is super efficient and helpful. - SK
I had a septoplasty it was great recovery was good and i can finally breath from my nose. - AT
Patient Testimonial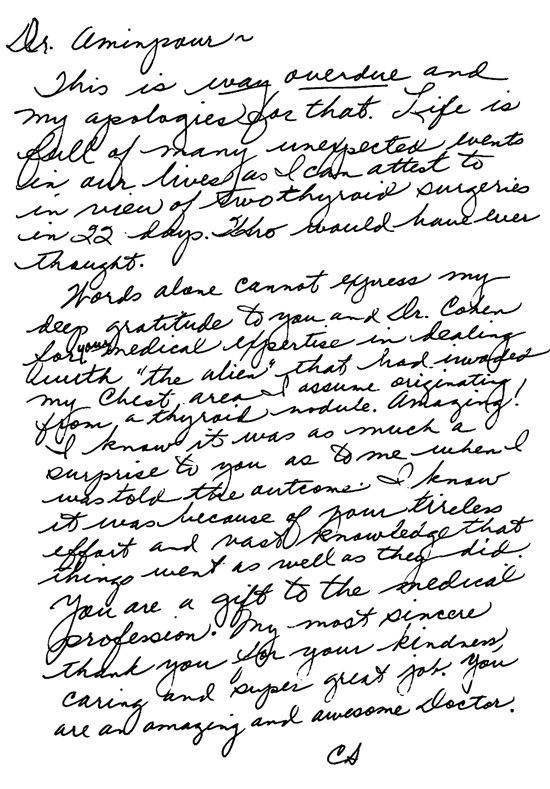 Patient Testimonial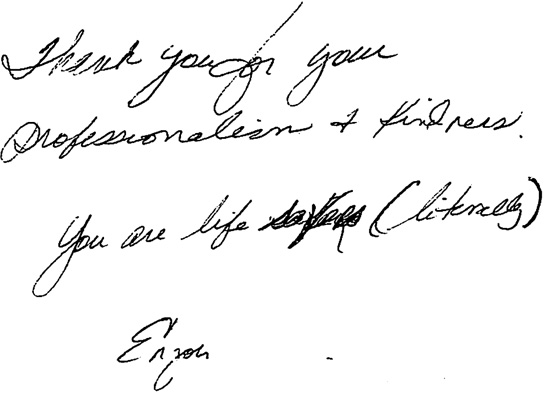 Patient Testimonial

Patient Testimonial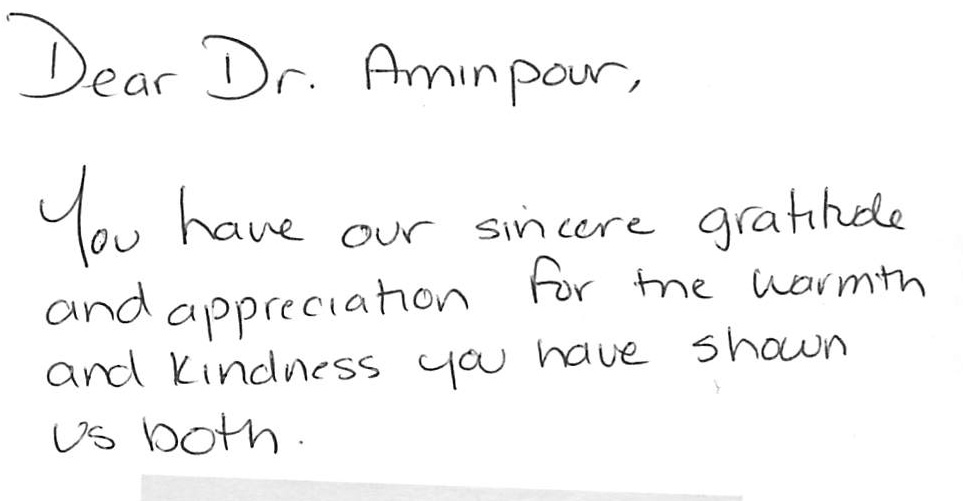 Patient Testimonial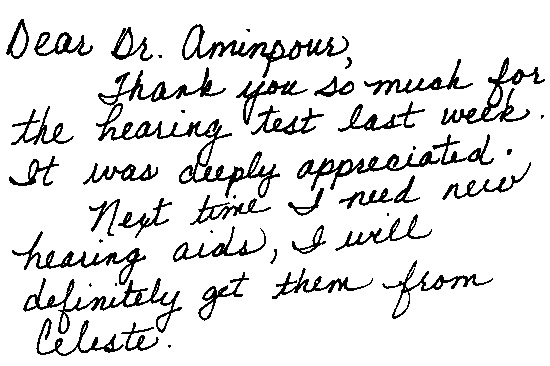 Patient Testimonial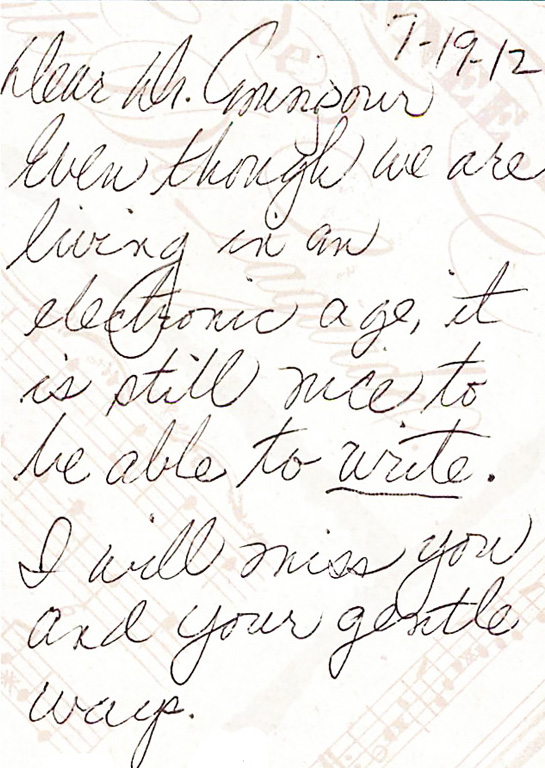 Patient Testimonial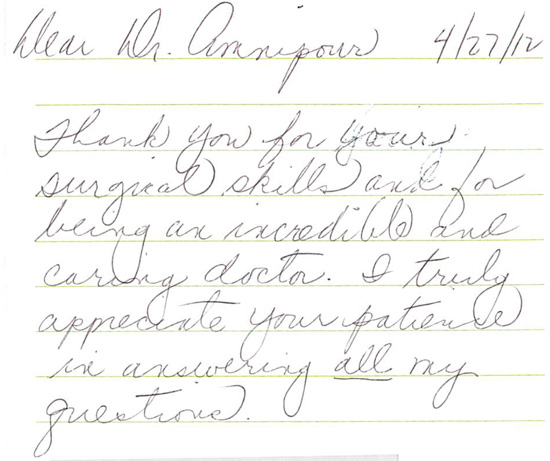 Patient Testimonial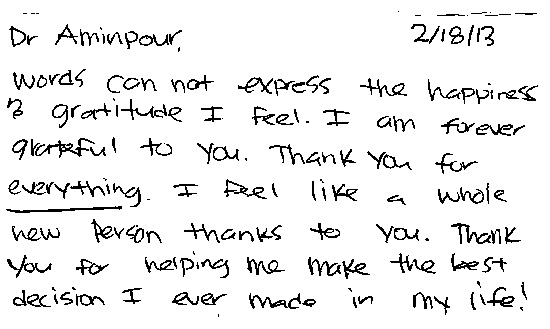 Patient Testimonial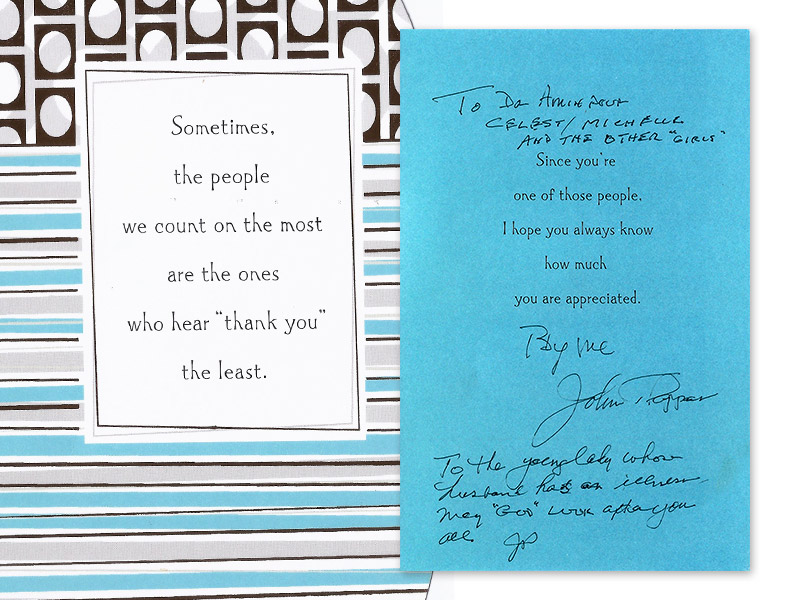 Testimonial video Trimmed
Testimonial video Trimmed